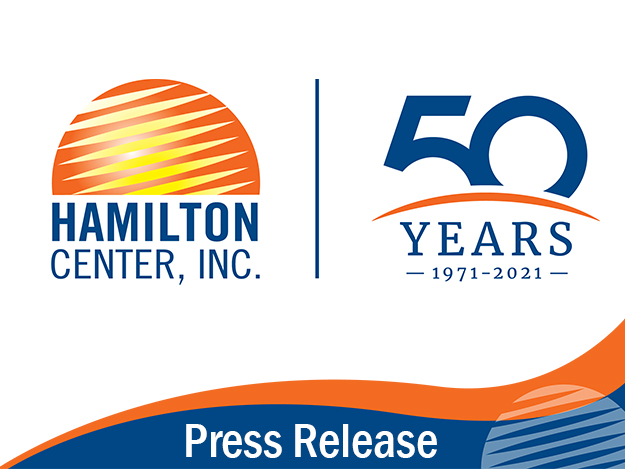 On December 17, 2021, Hamilton Center graduated another "new citizen" from a program that offers the opportunity to acquire job skills, employment, and a new way of life.
"The enormity and the complexity of skills I have developed are only comparable to the 4 years of college I completed while serving my sentence." – Jason Wentz, Hamilton Center New Citizen Program graduate.
Hamilton Center's New Citizen Program, first established in 2013, gives individuals who have been incarcerated the tools needed for a second chance at life. Throughout a one-year probationary period, participants train in different areas of the Corporation to gain skills and experience to secure a permanent career at Hamilton Center. In addition to job skills, participants gain life skills as they work through challenges of reintegration into their communities with a team of mentors that meet with them weekly.
"Once an individual has paid their debt to society, they should be imparted the opportunity to restore and build upon their lives." – Melvin L. Burks, President/CEO, Hamilton Center, Inc.
The opportunity is life changing for someone who has been involved in the criminal justice system and is willing to turn his or her life around. The program offers support from Hamilton Center staff and community leaders to bring confidence and motivation to someone who is willing to become a new citizen.
"The New Citizen Program has made a lasting impression on my life, having provided me with the opportunity to fulfill a lifelong dream of working both in IT and mental health. I have expanded my knowledge of computers and technology and received hands-on experience and training in the IT Department. I have not only earned a permanent position as an IT Support Representative, but I am continuing my training and working towards additional certifications in the field," Wentz stated.
The New Citizen Program is about supporting those who have made decisions that could negatively affect the rest of their lives. Hamilton Center has made it possible for these individuals to have a second chance, to start a new life, and to travel down a supported path to success.
"I feel a sense of accomplishment, having set a goal, working diligently towards achieving it, and ultimately attaining it," said Wentz. "I am humbled by the blessing I was given just getting a chance to prove myself, and I am beyond joyed to find myself in a position where I am helping people each and every day."
Hamilton Center welcomes additional host sites and participants for the New Citizen Program. To learn more, visit www.hamiltoncenter.org/programs/new-citizen/, or call (812) 231-8323.