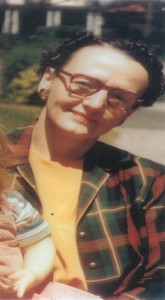 " On my twenty-fifth birthday, I was called upon to sign my twenty-seven year old sister over to the custodial care of those appointed by the State of Massachusetts to care for its people with mental illness. Burnt deeply into my heart is that frightening experience when that heavy door, which shut my sister in, also shut me out. I was terrified. What would those people do to her? Would they be kind to her? I was soon to learn they could not. They could neither help, nor did they have the least idea why she had become ill. In the end the summation was simple: 'Diagnosis, schizophrenia. Recommendations, none. Prognosis, steady downhill course'."

-Katherine Hamilton
Following that experience Katherine Hamilton began a quest to improve conditions and services for the people with mental illness.
As a result of the Community Mental Health Centers Act of 1963 passed during the Kennedy administration, the States were provided the opportunity to develop a State plan for community mental health and to obtain federal grants to establish a system of community mental health centers. The development of Hamilton Center Inc. is a story of citizens, volunteers and professionals in a six county area, over a period of years, organizing, planning, and working together for the establishment of a Mental Health Center in west central Indiana. It is a story of people infused with the belief that mental illness was a major illness in the community and that the dire lack of facilities for treatment could be improved. It was believed that people could best be treated in their home communities rather than having to travel long distances and perhaps being institutionalized.
Although there were hundreds of volunteers involved, Dr. Betty Dukes, a Sullivan County physician, and a small executive group, compiled The Plan for a Comprehensive Center in Region VII. The plan was approved by the Indiana Department of Mental Health. The first stage of planning was completed.
The development of Hamilton Center was a result of public and private partnerships involving the Vigo County Mental Health Association, Union Hospital, The Adult and Child Guidance Clinic and corporate and individual donors. In a short period, the Katherine Hamilton Mental Health Center was incorporated and its first outpatient office opened in 1971. Named in honor of Katherine Hamilton, a citizen of Vigo County and a pioneer in the Vigo County and State Mental Health Association, Hamilton Center has grown to become a regional behavioral health system. Hamilton Center serves central and west central Indiana providing the full continuum of mental health and addictions treatment to children, adolescents and adults. Currently the organization serves approximately 13,000 clients a year, employs 550 staff and has outpatient offices in 10 counties in Indiana.
Timeline
In 1963 President John F. Kennedy signed the Community Mental Health Centers Act of 1963. This created an opportunity for states to devise a plan for CMHCs and open grant funding for the first time.
1967 Katherine Hamilton Mental Health Center became a not-for-profit corporation.
1971 Katherine Hamilton Center opened in Vigo County for outpatient services.
1972 Developmental disability services added.
1973 Clay, Parke, Sullivan, and Vermillion satellites established.
1975 Greene County satellites established.
1976 Children's services offered.
1978 Residential service offered.
1981 Katherine Hamilton Mental Health Center changed to Hamilton Center, Inc.
1987 500 8th Avenue facility opens as a Developmental Disabilities Facility, currently serves as HCI's Child and Adolescent Services facility.
1993 Parke County satellite opens.
1993 Health Families Program opened.
1995 Owen County satellite opens.
1997 Illinois Street satellite opens.
1998 Putnam County satellite opens.
2005 Hendricks County satellite opens.
2005 Bloomfield satellite opens.
2012 Hamilton Center Foundation established.
2015 West Terre Haute satellite opens.
2017 Clubhouse Services begin.
2018 Western Indiana Recovery Services opens.
2019 Grace Clinic Health Professional opened.
2020 WIN Recovery offices opened in Knox and Hendricks Counties.
2020 FQHC Look-Alike designation.
2020 Received Certified Community Behavioral Health Center (CCBHC) grant.
2021 Hamilton Center celebrates 50th Anniversary.
2022 10th annual employee kick off.
2022 8th annual Diversity Walk event.
2022 5th annual Butterfly Release.
2022 Hamilton Center Annual awards dinner.
Since 1971, Hamilton Center, Inc. has pursued a mission to provide quality behavioral healthcare, wellness, and human development services to the community by expanding behavioral health services to 21 locations across 11 counties in west central Indiana. Today, employing over 650 individuals, this regional organization has grown to include a comprehensive system of care including whole person wellness through integrated behavioral and primary healthcare services and a large menu of programs serving children and families. In addition, Hamilton Center hosts a number of beloved community events, support drives, and social justice initiatives further advancing its vision of excellence in behavioral health services through compassion, customer responsiveness, innovation, and flexibility.
"I speak for every employee, current and past, when I say thank you central and west central Indiana for your support and the privilege of serving our communities."

– Melvin L Burks, CEO of Hamilton Center, Inc.
A Golden Year of Celebrations
In celebration of its achievements, Hamilton Center will host a series of exciting opportunities to share with the community the milestones and challenges of the last half-century while looking forward to future opportunities. Here is what to look for:
Proclamation of Hamilton Center, Inc. Day – On February 18, Terre Haute Mayor Duke Bennet will be a guest on Facebook Live with Melvin L, and recognize Hamilton Center, Inc. for its 50 years of commitment to improving access and care to those struggling with mental illness.
Free suicide prevention training to community organizations. To learn more go to trainingourcommunity.org.
Moments in Time: Hamilton Center through the Years – Throughout the year, themed in accordance with national holidays and monthly observances, the organization will release content across a variety of platforms recognizing significant advances in behavioral healthcare and its own corporate history.
The Annual Hamilton Awards Dinner – Hamilton Center, Inc. will conduct nominations for the Hamilton Awards beginning in fall of 2021, announcing winners on October 26, 2021 at the Annual Dinner. More information about the event will be released in early fall.