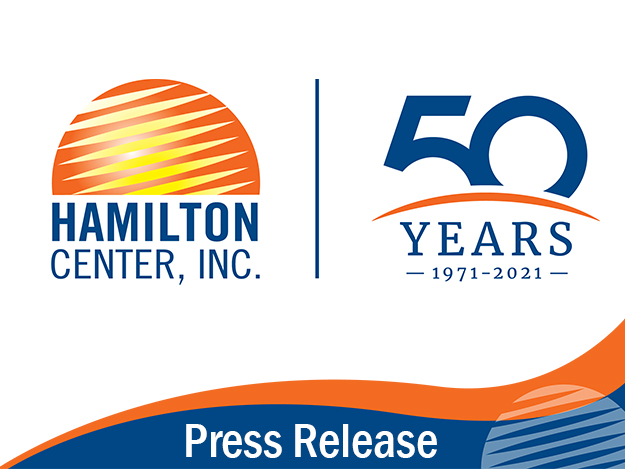 Commemorates half-century of efforts to improve mental health care
Terre Haute, IN – In 2021, Hamilton Center, Inc. commemorates its 50th anniversary. Founded in 1971, originally as Katherine Hamilton Mental Health Center, the organization has served communities and individuals across west central Indiana with progressive and community-focused behavioral health services.

"Hamilton Center, with the help of committed community partners, has advanced behavioral health and addiction treatment," said Melvin L Burks, CEO of Hamilton Center, Inc. "Our long standing philosophy of "least restrictive care" has assisted those with severe mental illnesses and chronic addiction issues to live successfully and independently in their home communities. Hope has often been restored, quality of life enhanced, and in many cases, lives have been saved."

Then and Now:

In the late 1950's, Katherine Hamilton, like many caregivers during that time, was faced with the reality of an inadequate mental health system that focused on institutionalized care. Her sister was struggling with severe mental illness (schizophrenia), and professionals did not provide much hope. After handing her sister over to a long-term care facility, with minimal knowledge or influence over the quality of care she would receive, she began to work to improve conditions and services for those with mental illnesses. Her work nationally and statewide would serve as a foundation for progress in treatment.

After the Community Mental Health Center Act passed in 1963, Indiana began working to establish community based treatment. After immense community organizing and fundraising, the Katherine Hamilton Mental Health Center opened its doors at 620 8th Ave, Terre Haute in February 1971. People in the area were now able to seek services close to home rather than traveling to larger cities.

"That history, is the story of citizens, volunteers and professionals… infused with the belief that mental illness was a major illness in a community and that the dire lack of facilities of treament could be corrected. They believed that through community organization, this could be accomplished."

-History of Hamilton Center
Key historical highlights include:
• 1967 Katherine Hamilton Mental Health Center became a not-for-profit corporation
• 1971 Main campus opened – 620 8th Ave.
• 1972 Developmental disability services added
• 1973 Clay, Parke, Sullivan, and Vermillion Counties offices opened
• 1975 Greene County office opened
• 1976 Children's services offered
• 1978 Residential services added
• 1981 Katherine Hamilton Mental Health Center changed to Hamilton Center Inc.
• 1986 Employment services added
• 1987 Child & Adolescent Services moves to new 500 8th Ave. building
• 1993 Healthy Families program opened
• 1995 Owen County services established
• 1995 Early Head Start services established
• 1997 Indianapolis office opened
• 1998 Putnam County office opened
• 2000 Bloomfield office opened
• 2012 HCI Foundation created
• 2017 Clubhouse services began
• 2018 WIN Recovery opened in Vigo County
• 2019 Grace Clinic Health Professional opened
• 2020 WIN Recovery offices opened in Knox and Hendricks Counties
• 2020 FQHC Look-Alike designation
• 2020 Received Certified Community Behavioral Health Center (CCBHC) grant

Since 1971, Hamilton Center, Inc. has pursued a mission to provide quality behavioral healthcare, wellness, and human development services to the community by expanding behavioral health services to 21 locations across 11 counties in west central Indiana. Today, employing over 650 individuals, this regional organization has grown to include a comprehensive system of care including whole person wellness through integrated behavioral and primary healthcare services and a large menu of programs serving children and families. In addition, Hamilton Center hosts a number of beloved community events, support drives, and social justice initiatives further advancing its vision of excellence in behavioral health services through compassion, customer responsiveness, innovation, and flexibility.

"I speak for every employee, current and past, when I say thank you central and west central Indiana for your support and the privilege of serving our communities," said Burks.

A Golden Year of Celebrations:


In celebration of its achievements, Hamilton Center will host a series of exciting opportunities to share with the community the milestones and challenges of the last half-century while looking forward to future opportunities. Here is what to look for:

• Proclamation of Hamilton Center, Inc. Day – On February 18, Terre Haute Mayor Duke Bennet will be a guest on Facebook Live with Melvin L, and recognize Hamilton Center, Inc. for its 50 years of commitment to improving access and care to those struggling with mental illness.

• Free suicide prevention training to community organizations. To learn more go to trainingourcommunity.org.

• Moments in Time: Hamilton Center through the Years – Throughout the year, themed in accordance with national holidays and monthly observances, the organization will release content across a variety of platforms recognizing significant advances in behavioral healthcare and its own corporate history.

• The Annual Hamilton Awards Dinner – Hamilton Center, Inc. will conduct nominations for the Hamilton Awards beginning in fall of 2021, announcing winners on October 26, 2021 at the Annual Dinner. More information about the event will be released in early fall.