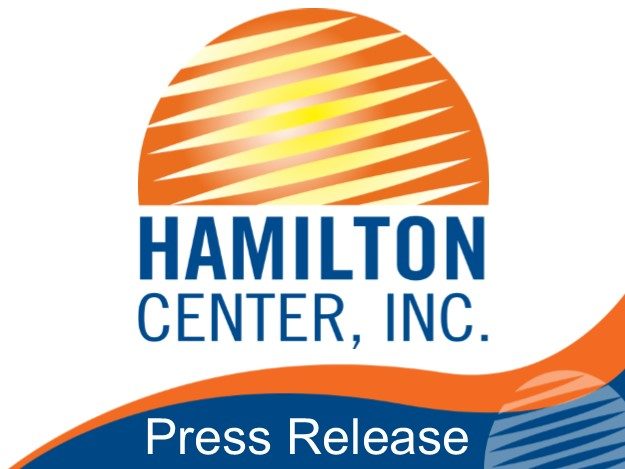 Hawkeye, a three- year- old white German Shepherd, has become an enhancement to therapy for the children in services at Hamilton Center. Hawkeye is a Certified Therapy Dog through Therapy Dogs International (TDI) and will be working with children who are diagnosed with autism, ADHD or have experienced trauma or other crisis situations.
Hawkeye is a rescue dog from the Sullivan County Humane Society. Cynthia Rotman, Care Manager Supervisor, realized that not only did he enjoy being with children, but that his presence has a calming influence on them. Rotman adopted Hawkeye when he was 10 months old and has been training with him ever since.
"My husband and I have been rescuing German Shepherds for years. I have had a real desire for some time to put my love of Shepherds into helping them become therapy dogs. Hawkeye has been challenging, but he has become a very special part of our family, and now, part of the mission of Hamilton Center," explains Rotman.
The requirements for Hawkeye's therapy certification are stringent through TDI. He had to meet certain requirements and be tested and evaluated by a certified TDI evaluator. There are over 24,000 dogs of all breeds and pedigrees registered through TDI, a non-profit organization supported through annual membership dues and donations. TDI provides programs such as assisted living, disaster stress relief dogs, and home visits to name a few.
"When Hawkeye is working, he is very tuned in to his surroundings — how he is feeling and how people are reacting to him," said Rotman, "my job is to make him available and to teach people how to appropriately interact with him."
According to a study conducted through Therapy Dogs International, people can experience psychological, physical, social and behavioral benefits from working with therapy dogs like Hawkeye.  The study strongly supports the use of dogs to enhance the quality of life of individuals in healthcare and/or restrictive settings.
"Hamilton Center is excited to see how well-received Hawkeye is by the children receiving treatment through child and adolescent services", said Melvin L. Burks, CEO of Hamilton Center. "We want to do anything we can to enhance treatment and assist children in feeling comfortable," he said
Hamilton Center, Inc. is a regional behavioral health system in Central and West Central Indiana. Services are provided to adolescents and adults, with specialized programs for expectant mothers, infants, and people with drug and alcohol problems. Counseling services are provided for people who may be struggling with stress, life changes, or relationship issues as well as more serious problems such as depression, anxiety disorders, and serious mental illnesses.