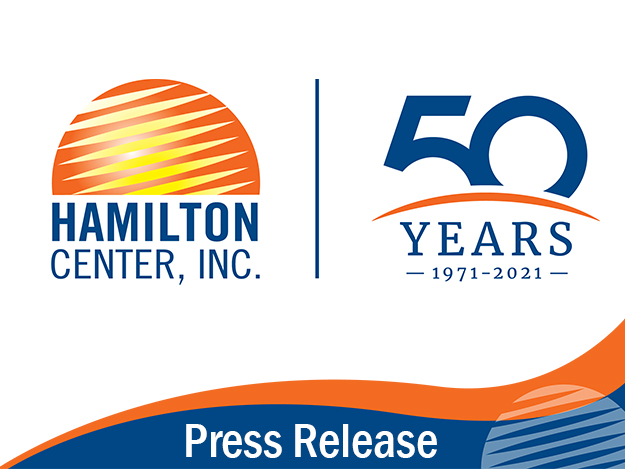 October 26, 2021, 5:30 pm at Hulman Center
Hamilton Center will host the annual Hamilton Awards on Tuesday, October 26, 5:30 pm, at Hulman Center featuring keynote speaker, Matt Brooks. Mr. Brooks, the former President and CEO of Indiana Council of Community Mental Health Centers, has over thirty years of experience as a leader in the State of Indiana in developing comprehensive public health initiatives and behavioral health policy and legislation.
This year marks 50 years of Hamilton Center's commitment to serving the community's mental health and addiction needs. The theme of 50 Years Further highlights how far we have come and yet, how much further we have to go. The event will highlight fiscal year 2021 accomplishments and recognize those nominated for a Hamilton Award.
Katherine Hamilton fought for the inclusion, acceptance, and support of those struggling with mental illness in the early 1960's. She emphasized the importance of community in her life's work. In this spirit, Hamilton Center awards were created to recognize individuals and organizations who have significantly contributed to the cause of mental health and addiction while furthering the mission of Hamilton Center, Inc. in the community. Nominees are recognized in the categories of volunteer, community, and Hamilton Center staff. Winners will be announced that evening.
Volunteer Category: Frank Carrio (Vigo County); Jonie Kanizer (Vermillion County); Audie Spencer (Vigo County); Nancy Swain (Parke County); Jillian Turner and Giana White (Vigo County)
Community Category: Clay County Podiatry; Shannon Miller, CODA (Vigo County); Ernie Pyle Elementary School (Vermillion County); Michael Rentfro, Next Steps Foundation, Inc. (Vigo County); Dr. Megan Kirk, Project Aware (Vigo County); Resurrecting Recovery Center (Greene County); Senator Jon Ford; Team of Mercy, Inc. (Vigo County); Vermillion County Jail/Sheriff's Office; Way Maker, Inc. (Hendricks County)
Staff Category: Mark Collins, Chief Clinical Officer; Robin Cooprider, Executive Director of Systems; Mary Beth Dougherty, Executive Director of Patient Care; Art Fuller, Executive Director of Access Services; Molly Funk, Program Manager – Addictions; Lynn Hughes, Chief of Community Engagement; Erika McKinney, Care Manager Supervisor – Child & Adolescent Services; Tina Payton, Registered Nurse – Vigo County Outpatient; Leeann Pruiett, Registered Nurse; Cristy Werremeyer, Program Manager – Vigo County Outpatient; Tina Williams, Program Assistant – WIN Recovery Hendricks County
Hamilton Center invites community members, groups, and organizations to celebrate the nominees and recipients of the 2021 Hamilton Awards. For information about the event or to register go to www.hamiltonawards2021.eventbrite.com.
Due to the public health crisis caused by COVID-19, we will require all attendees to wear a mask when entering the dinner venue and practice social distancing throughout the event – tables will be appropriately spaced and there will be fewer people at each table.
Hamilton Center, Inc. is a regional behavioral health system in Central and West Central Indiana with corporate offices located in Terre Haute, Ind. Services are provided to children, youth and adults, with specialized programs for expectant mothers, infants, and people who may be struggling with stress, life changes, or relationship issues, as well as more serious problems such as depression, anxiety disorders, and serious mental illnesses.