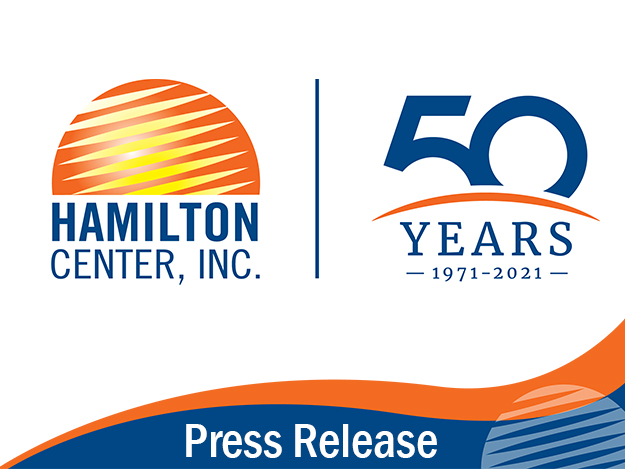 Commemorates half-century of efforts to improve mental health care
In 2021, Hamilton Center, Inc. commemorates its 50th anniversary. Founded in 1971 as the Katherine Hamilton Mental Health Center, the organization has spent the last 50 years advancing excellence in behavioral healthcare services. Today, the organization serves over 12,000 consumers annually, employs over 650 Hoosiers, and hosts a number of beloved community events in west central Indiana.
Hamilton Center, with the help of committed community partners, has advanced behavioral health and addiction treatment. As our understanding of mental health, physical health, and the mind-body connection has advanced in the last 50 years, so has Hamilton Center's service delivery. Today, the organization offers a full array of services with focus on integrating both behavioral health and primary care services to offer whole person care. The organization's long-standing philosophy of "least restrictive care" has assisted those with severe mental illnesses and chronic addiction issues to live successfully and independently in their home communities. For many, hope has been restored, quality of life enhanced, and lives have been saved.
Hamilton Center Expands 24-hour Access Services
Hamilton Center's Access Center and Crisis Line are now staffed 24-hours a day, seven days a week, assisting individuals, families and communities who may need support with mental health or substance abuse emergencies.
Mental health-related crisis calls have increased throughout the pandemic and are often related to social isolation, fear of illness, and hindered access to services. Hamilton Center's 24-hour Access Center offers mental health and substance use crisis assessments and management services from mental health professionals, and services are available to individuals throughout the corporation's 10-county service area. In addition, the Access Center can assist those seeking access to preventive screenings including mental health and primary care screenings.
"Everyone has struggled in some way during the pandemic," said Art Fuller, Executive Director of Access Services. "What we are trying to do is optimize our efforts to meet the specific needs of those in crisis. We are here to provide support 24/7 to any one in need, children and adults alike."
The Access Center can be reached at (800) 742-0787.
Free Suicide Prevention Training for All
In celebration of 50 years of service to west central Indiana, Hamilton Center has launched a public service campaign focused on suicide prevention. "Zero suicides. It is possible."
The campaign is focused on suicide prevention training and expansion of emergency services. Hamilton Center is offering free suicide prevention training to organizations, groups, and individuals to assist individuals in identifying and assisting those struggling with a mental health issue or crisis. Suicide is preventable. Save a life, take the training. To learn more, visit hamiltoncenter.org/communitytraining.
Hamilton Center, Inc. commits to $15 per hour minimum wage for all employees
Melvin L. Burks, CEO of Hamilton Center, Inc., has announced that no employee in the corporation will earn less than $15 per hour.
In a memo sent to all Hamilton Center staff, Burks stated, "It has taken discipline, persistence and sacrifice to reach this goal…. I am grateful to the Board of Directors and my leadership team who stayed focused and steadfast to make this happen. In addition, I want to thank all of you (staff) for not only your hard work, but also your patience as we worked though this project."
This action was a culmination of work over the last few years to increase salaries in order to recruit and retain qualified individuals who can provide excellent service to consumers in Hamilton Center's regional footprint.
"These increases will significantly improve the quality of life for many of our employees, as well as our consumers who are counting on us to serve them with a top notch, qualified and stable workforce. I am so proud of the investment we are able to make in our workforce," Burks stated.
This initiative, combined with other salary increases, will affect over 300 Hamilton Center positions.
* * *
Hamilton Center, Inc. is a regional behavioral health system in Central and West Central Indiana headquartered in Terre Haute Services include specialized programs for expectant mothers, infants, and people with drug and alcohol problems. Counseling services are provided for people who may be struggling with stress, life changes, or relationship issues as well as more serious problems such as depression, anxiety disorders, and serious mental illnesses.